WE ARE THROWDOWN ROBOTICS
A 501c3 NonProfit to Help Kids Get HandsOn Education & Experience With Robotics
We are creating an Educational Effort to bring the marvels of combat robotics from your TV into your school.
We are an IRS certified 501(c) (3) so your donations to us are tax deductible!
(Whoo Hoo- so please send money now!)



AND We are proud member of each of the following charity efforts.
Please look us up if you use them.
We are: Throwdown Robotics, Educational Effort, Inc.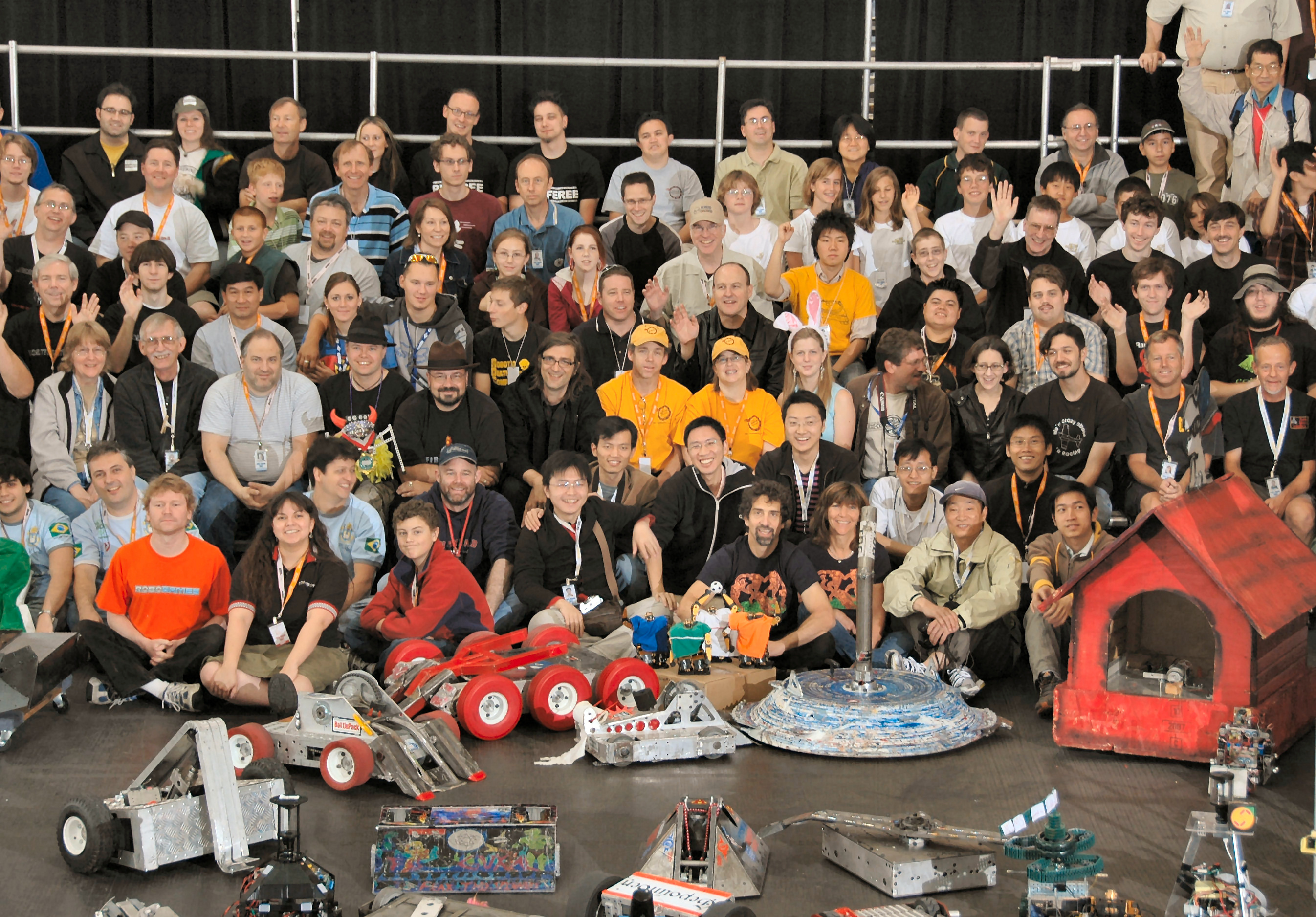 Individual or Corporate donations welcomed with a BIG smile!!
All contributions are Tax Deductible and any donation will make you 30% cooler!!!
Corporate sponsors can get PRIME logo placement and a chance to sit at the cool kids table!!
(Its a great view- you will love it!!)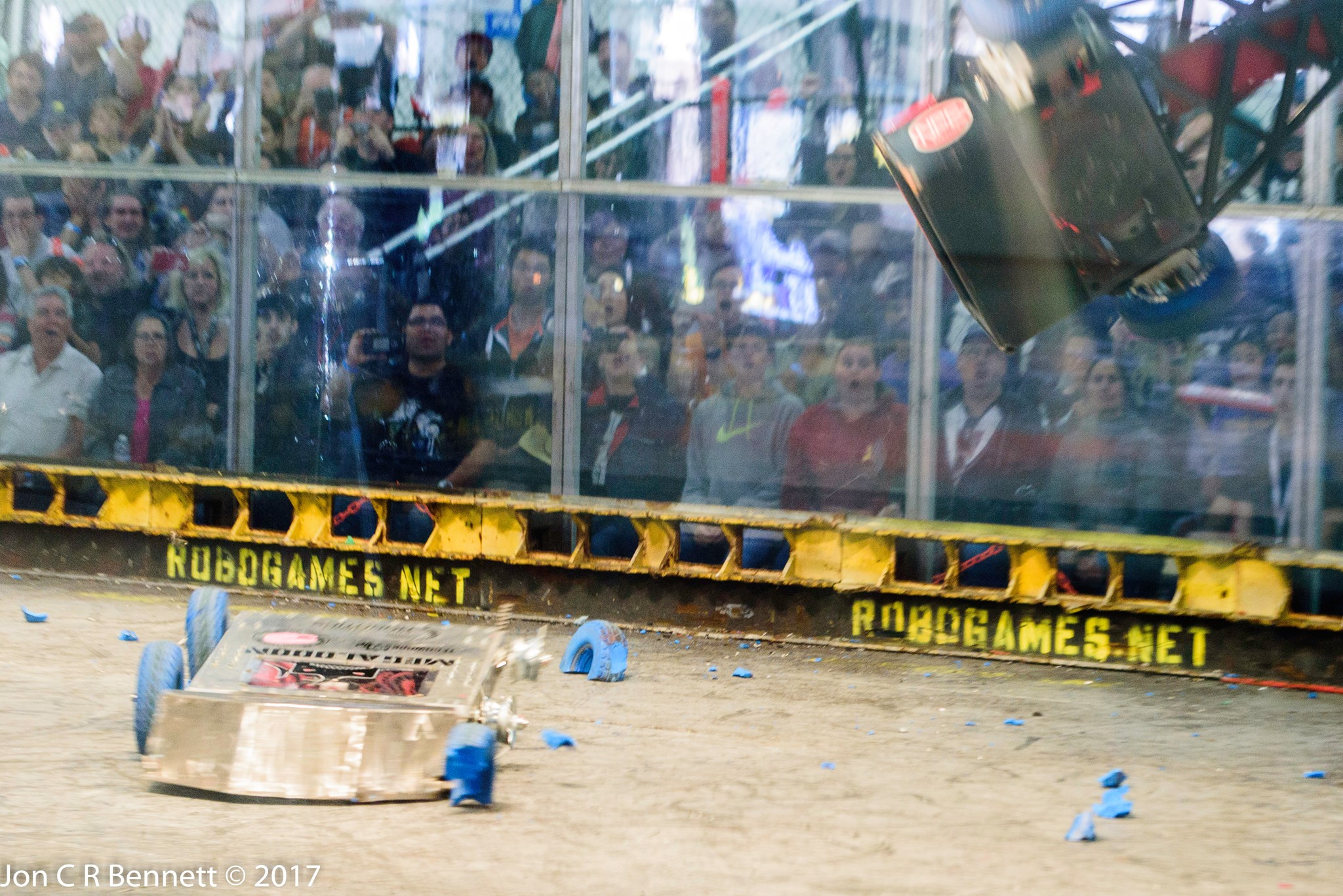 Build the Arena
There are many steps to bring the arena into reality
  BUT WE WILL DO IT!!
Fundraising, materials, project management  and volunteer builders: We need it all! Join us!
It will be like the Roman Colosseum and host the best of the best – for 1,000 years!!!
(Bring your PIMBOK manual – just kidding)
OUR GOAL $150,000
To get up and running so we can support robot fight'n such!!!
Our events will include:
Age grouping for middle school, high school and college level students

Robots weight classes up to 30 pounds
Traditional (driven)
AND Coming Soon:
Artificial Intelligence only classes
(Yup- AI driven robots will be cool- robots that fight on their own. Don't worry we wont let them out of the cage until they are under control!!)

Our Goal is to Raise $150,000
Which sounds like a lot- but we have a slew of stuff to do- like:



BUILD A Combat Arena: $75,000

We're seeking to build a modest 16x 16 'portable cage' suitable for robot classes from 1 to 30lbs.
IT WILL LAST 1,000 YEARS!
(That's the plan for now- but we know 1,000 years is a long time.)
PROVIDE Sponsorships: $40,000  
We will use this money to match student funds so they can get started building robots to compete.
BUY Safety Equipment, Insurance, Travel Support: $20,000

Event insurance and transportation of the coliseum so we can bring the fight to a town NEAR YOU!
DEVELOP Education and Training: $15,000

Throwdown will be supporting 'How to workshops' and planning seminars to get you, and your team, ready to fight! 
TAKE A PEAK AT OUR GOFUNDME CAMPAIGN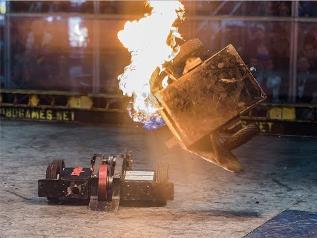 $10 gets you a Limited Edition Bumper Sticker
For a $10 donation, we will send you a Throwdown Robotics bumper sticker – and a tax receipt that will lighten your tax bill!
Note: if you dont pay taxes it might not be of much value to you- but hey you still get the bumper sticker- right!

BONUS: The first 100 folks who donate $10 will also get one free ticket YOU to our first event FREE!
While the bumper sticker is suitable for framing- we feel that it will look way better on the combat robot you build as it goes grinding into combat- so start building your team today!
(We also know that if you put it on your car it will increase the value of your car by at least 10%)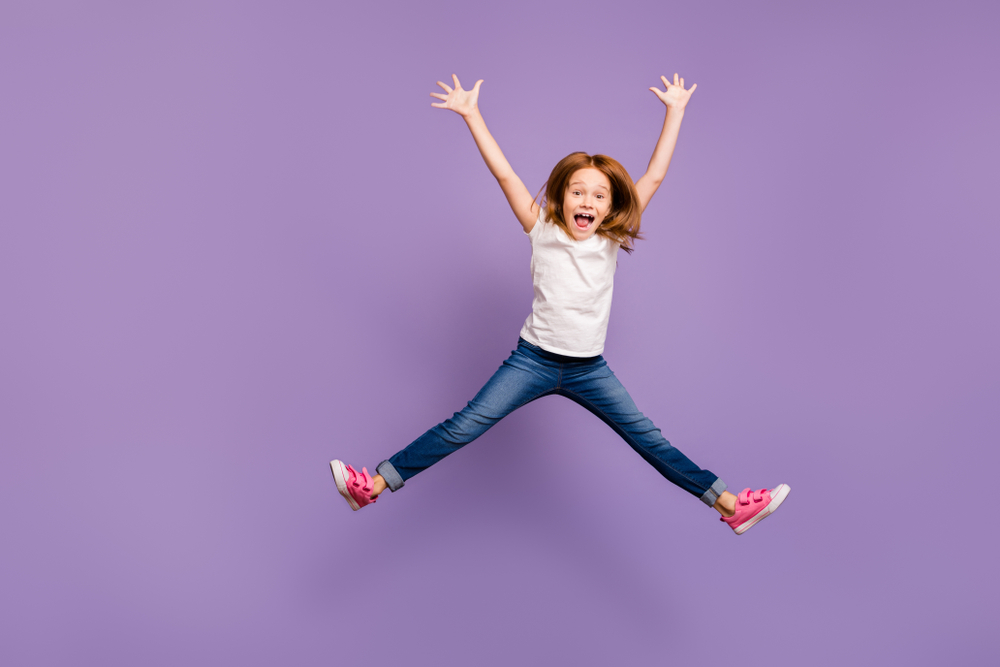 $50 gets you a Limited Edition (very cool) Throwdown T- Shirt
For a $50 donation you will get a Throwdown Robotics t-shirt that is a proper clothing choice for any black tie affair – and a larger tax write off than you would get if you donate a smaller amount!
BONUS: The first 200 folks who donate $50 will receive a Throwdown Robotics T-shirt and two tickets (if you wear our shirt) to get you (and a buddy) into our first event FREE!
(Trust us- the t-shirt will be cool. Look how high the demo shirt made this kid jump!! Just wait until the shirt has a logo!!)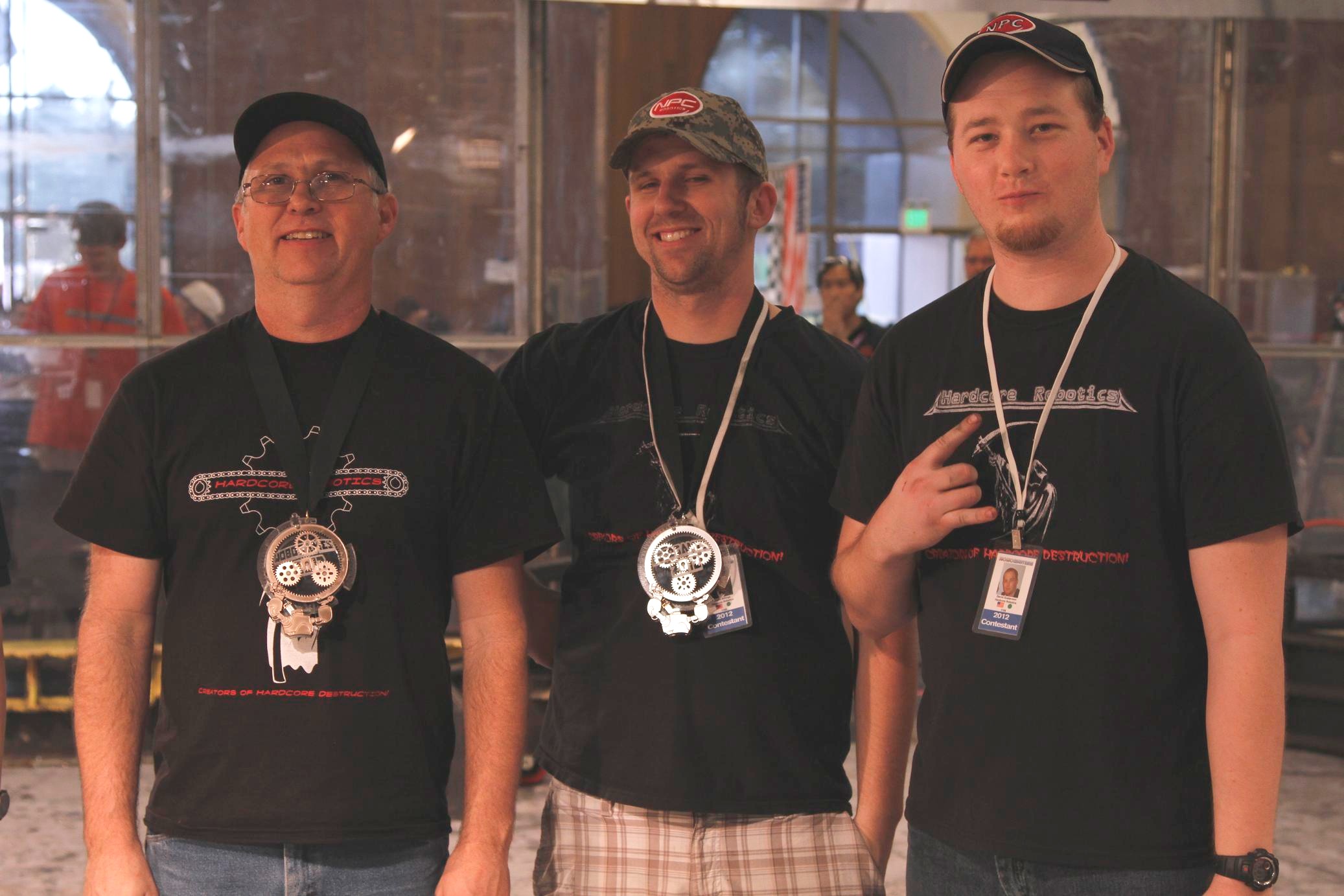 $1,000 gets you a chance to Hang with Mr. Ray (Billings)
For a $1,000 donation, you will receive 5 passes to a 2 hour event where Ray will review his career, his favorite battles and discuss combat robot strategies. Oh- and a big tax write off!
Attending this event pretty much guarantees you amazing insight into Mr. Billing's brain and gives you the inside track to build the 'bestest' robot that can be built.
Also each of the $1,000 donors will receive 5 free tickets to our first event.
(Come and look into Ray's brain and see the future of combat robots – at least we think that is what we will see- we haven't gone yet so we will learn together. It will still be cool- we promise!)
BONUS!
If you send us a picture of your bumper sticker – OR – of you in your shirt
AND you post it on your social media page and link back to us –
we will send you 2 FREE tickets to our first event!
IMPORTANT NOTE: The shirt will look way better on you if you are in the stands cheering for mayhem at our event – we promise!
Did you know that you can support us as you purchase things from Amazaon? Super easy – right?
Amazonsmile donates a portion of any Amazon purchase to the charity of your choice. 
It takes a minute (or so) to find the site (https://smile.amazon.com/)  and then locate us – but once you do- you will be donating to us each time you purchase something with Amazon.  Its a great way to help us.  Learn how to make Throwdown Robotics Educational Effort, Inc. your Amazon(smile) charity of choice: 
Thanks in advance!

Send us an email if you're interested in helping us – we are always willing to talk with folks!
OUR STORY
Encourage, Support, Educate, Play
And – Break other peoples stuff (Safely)
(Note: The folks in the picture behind us broke each others stuff and they look happy- right?  So join us now- it will be the most fun you have this year!!)
 Throwdown is energized by the thought that a small, determined group of folks can set up a system to support average school age kids to safely build robots and compete in cage based robot fights. 
Our group includes a wide range of folks-  who along with industry leaders like Ray Billings (Hardcore Robotics) are looking to support students in the Northern California/West Coast region who are interested in learning how to:
Work hard
Work as a team
AND Drive technology that can collide in a city near you.
Our goal Is to create courage and wisdom by exposing kids to real, live applied physics and technology.

Robots are the future – duh! Come join us!
GET YOUR HELMET ON AND HELP!
ROBOTS ARE THE FUTURE -DUH!
Encourage, Support, Educate, Play – Get in the game!!!
Robots are the future
Really we promise we are not lying to you- we swear robots are coming- join us to prepare!
We are talking with students/teachers/parents who see value in learning physics in a hands-on venue that allows teams of kids – closely supervised by parents- to combine science, project management and leadership to grow.
To learn more- email us at throwdownrobotics@gmail.com
DONATE NOW
Robots are the future – duh!
Come join us and prepare for the future!
QUICK SELECT
(SELECT THE AMOUNT AND CLICK THE PAYPAL BUTTON BELOW)
CUSTOM AMOUNT
(CLICK THE PAYPAL BUTTON BELOW)